Today's Holiday is a free service of TheFreeDictionary.com
Great American Smokeout
14 hours ago

The American Cancer Society encourages nonsmokers to "adopt" smokers on this day and support them as they go through withdrawal from nicotine—a drug that is said to be as addictive as heroin. Schools are particularly active in observing the Smokeout, teaching young people that the easiest way to avoid the health problems associated with smoking is never to start. Other organizations also sponsor programs and activities designed to increase public awareness of the hazards to which both smokers and those who breathe their smoke are exposed. Discuss
Africa Industrialization Day
20 Nov 2019 at 5:00am

In 1989 the United Nations designated November 20 as Africa Industrialization Day. Observances center around mustering international support for the industrialization of Africa.
Hamburger Dom Winter Fair
19 Nov 2019 at 5:00am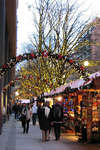 The Hamburger Dom, or Dom Fair, is one of the most famous Christmas fairs in the world. It was named after its original location, which was in the open square in front of the Dom, or cathedral, in Hamburg, Germany. Today the fair is held in the Heiligengeistfeld, or Holy Ghost Field, in the middle of the city. It features booths filled with toys, gingerbread, crafts, and other temptations for holiday shoppers. The Fair begins in November and doesn't close until just before Christmas, giving shoppers from Hamburg and the surrounding area plenty of time to buy their gifts.
---